CUSTOMER TESTIMONIALS
" Bokos will be replacing my Crocs. They are much easier to pack when traveling, and my wife and I go to Cancun every winter. They'll be perfect for the beach and by the pool. Great product! "
John M., Boscobel, WI
" Bokos are the most comfortable sandals I have ever owned. I wear one pair around the house and have a second pair for golf and yoga. Great sandals! "
Ken P., Rochester, MN
" I dig 'em, they are super comfortable! I also really like the price, they are affordable. As sandals should be. "
Rod C., Traverse City, MI
" I try to always remember to bring my pair of Bokos sandals to the car on Sundays so that I can just wear them after church (I always wear heels at church!) in case we decide to do some window shopping at the mall. "
Alice S., San Francisco, CA
" I find that I love wearing them to the pool because my feet feel supported and the rubber makes them easy to walk in with wet feet...They were not only comfortable throughout the day, but versatile. They can easily transfer well from lounging poolside to dressing them up for fun nights out! "
Colleen K., Youngstown, OH
" I saw an article about your sandals and immediately ordered a pair for myself. I love them!!! I quickly ordered a pair for my daughter-in-law who likes them as well. I wear mine in the house right now and can't wait for summer to wear them outside. Just wanted to thank you for a nice product!! "
Kris L., White Bear Lake, MN
" Best sandals on the market, bar none!! "
Matthew G., St. Louis Park, MN
" Man, what took me so long to find these!? Best sandals ever. Keep on rockin' Bokos. "
Jeff D., Seattle, WA
" If I wear these while the kids are playing with the garden hose, I don't slide all over the place. Worth it to me! I love the open toes of these sandals too. If I'm going to bother painting my toenails, they should be appreciated. "
Dianna G., Kingsport, TN
" These are like the sandals I had when I lived in Guatemala. I love them. They're light, easy to clean, and bright. "
Tiffany B., Vineyard, UT
" I just ordered two more pairs because I am so thrilled with the pair I bought last summer. I broke my heel about 3 years ago, I come home from work every night with my foot aching. Today is the first day I wore my Bokos to work and also the first time my foot has not been in agony when I got home. So decided I needed two more pairs in different colors. Wish I could have bought every color. "
Sue A., Blue Mounds, WI
" I love wearing them around the house, short trips around town, and after the gym. They are simple and feel great on my feet. I would compare them to Crocs as far as comfort but don't look as ridiculous. "
Ryan V., Bonita Springs, FL
" I got the sandals last night, they are awesome, great customer service, deeply appreciated, will make sure to give appropriate shout outs. And the sandals themselves are awesome, really hard to find something like them, yours are perfect. "
Lance D., Raleigh, NC
" They are the perfect sandal to wear for regular activities and they are great to slip on after I take off hiking boots, running shoes or high heels. Bokos were very comfortable the first time I slipped them on...I know I'll be getting a lot of use out of these sandals! "
Valerie M., Silverado, CA
" Thanks for fulfilling my order right away, love the customer service. I'll be rocking my Bokos all around town this summer! I just have to get them back from my dad...he steals them from me all the time. "
Drew T., Burlington, VT
" I wear them everywhere. Best sandals I have ever owned! "
Mike D., Shelbyville, KY
" The sandals were super comfy! They felt great on my feet after running! I can see these going into my race bag come race season! I wore them to the pool and LOVED them! It didn't matter if they got wet. And when they were wet they didn't slip on my feet! "
Mindy B., Daphne, AL
" I put my pair of sandals to the test by wearing them out while I ran errands, working in the garden, around the house and more. These are the most comfortable pair of sandals that I have ever owned. "
Jennifer H., Ocoee, FL
" My Bokos stay permanently by my front door so I can slip them on everywhere I go. I wear them after the gym, before yoga, and walking around the lakes. I absolutely love my Bokos! I don't know how I survived in 'flip-flops' for so long!! "
Amanda E., Golden Valley, MN
" I received my sandals yesterday. I've been wearing them ever since they came out of the box. I've been looking for comfortable sandals for a long time, and I believe I have found the right ones! "
Bruno T., Montreal, Quebec
" Overall, I love my Bokos. I don't know anyone that would not like these. They're not thong sandals, so there's no annoying strap or chunk of hard plastic between your toes. They're just all around comfortable! "
Angela L., Copperas Cove, TX
" Since my order, you haven't been able to get me out of my Bokos. I wear them after working out, driving to work, and around the house. I'm going to get a few more pairs so guests at my house can have something to wear on the back porch. "
Ryan P., Cleveland, OH
" I wore my Bokos on the podium today, after a bike race. They are a great sandal for race-day because of the full-foot cover as opposed to the "thong/flip-flop", which is hard to wear when you have your race sock on. "
Steve K., Madison, WI
" I recently spent eight days in Costa Rica, and I loved wearing my Bokos every day! I had originally taken three pairs of sandals plus my Bokos, but ended up wearing my Bokos all week. My other sandals sat in my suitcase except when I hiked in the rainforest. They were perfect for the beach, pool, and walking around San Jose. "
Cindy H., Burnsville, MN
" My Bokos sandals have gone everywhere with me, to the fruit market, to the store and around town running errands. They were extremely comfy and looked cute with my jeans and capris. "
Becky F., Grosse Point Farms, MI
" While I was away on a trip, I decided to wear my Bokos to the airport. Not only did they help me to get my shoes on and off fast, but they were extremely comfortable walking from the security checkpoint to my gate - which seemed like almost a mile and a half of walking time. "
Jennifer S., Calvert City, KY
" Soooo comfortable, wish I had bought a couple different colors! "
Laurinda M., Troy, MI
" I have hardly ever found a pair of sandals that were comfortable from the start, but Bokos are different...They are now my go to shoes when I need to run out and get the mail or take a quick trip to the store. I may even start to wear them as my shoes to and from work instead of my sneakers. "
Cathryn D., Lebanon, NH
" I wear my Bokos all over the house, walking the dogs, and canoeing. At the beach, I am usually a flip flop kind of girl- but honestly I get SO annoyed because they flip and flop sand all over the place. Not my Bokos! "
Erin J., Miami, FL
" These are so awesome! Super comfy and easy to wear! I throw them in my suitcase for travel shoes. Love!! Get one in every color! "
Laurel B., Tucson, AZ
" To be honest, I've tried getting my husband to wear flip flops in the past but he refused because they're typically made in a thong-style and he dislikes having things between his toes. If we lived near a beach, these would definitely be our sandals of choice! "
Dee M., Pataskala, OH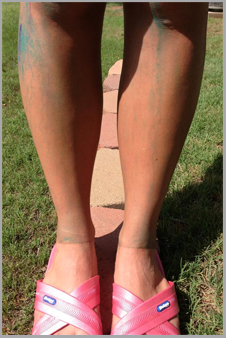 Sierra M., Amarillo, TX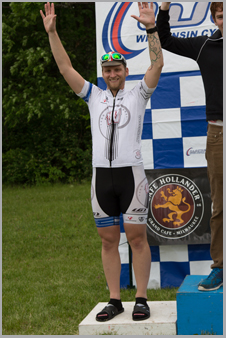 Steve K., Madison, WI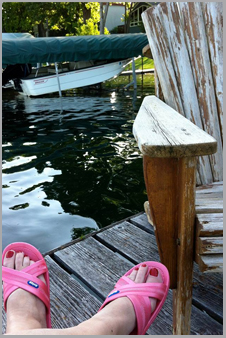 Beth B., Minneapolis, MN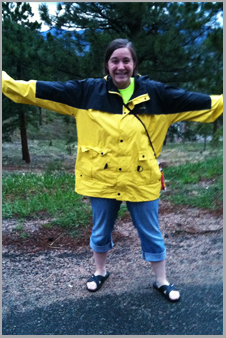 Robin E., Denver, CO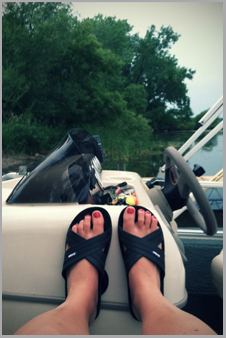 Chelsee D., Plymouth, MN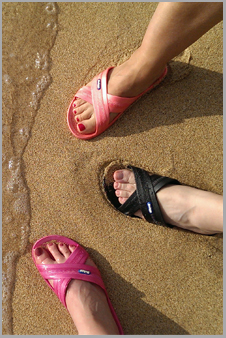 Mary Jo F., Kauai, HI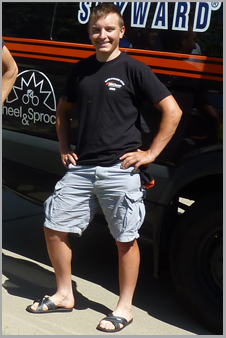 Alex K., New Zealand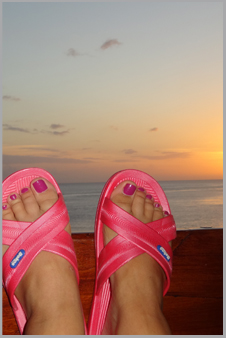 Marla S., Dominican Republic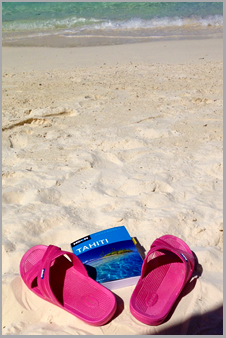 Pat P., Tahiti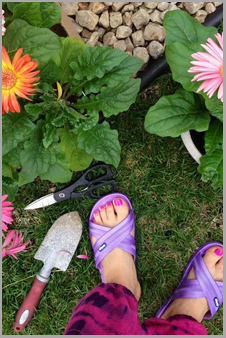 Anonymous